Case Studies
How do you turn three into one?
"The spirit we have experienced in this extremely well-organized, highly professional workshop has been very important. If we could only bottle it and take it with us! If we continue to interact as we have done in the last 36 hours, we will take that success to our teams. And that will be very positive for the coming days and weeks."
Ronald Geiger, Head of Group IS, Linde AG
The background
What happens when you want to turn pre-existing IT departments from three separate companies into one function serving a newly created, larger company?
How do you untangle the cultural practices that have developed at each – practices that might rely as much on employee knowledge as established documentation – and bind them together into one streamlined set of working principles?
In short, how do you turn three into one? That was the challenge.
What we did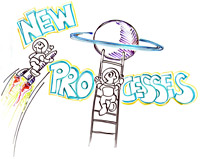 The client came to us with staff based on five continents. Some had never met or even spoken to each other prior to the merger.
We gathered them into one room and, through practical exercises and dynamic debate, mapped out everyone's working practices – finding the similarities and differences. It was only once everyone had a full understanding of how things had been run that we could move to the next step – how they should be run in the future.
Based on the concept for the organizational structure developed by an external consultancy, the participants collaborated to fine-tune and work out the implications of the way of working for the new, shared IT area.
Results / benefits
By the end, we had created a global and fully integrated, standardized model of working, informed by the participants' input. They had helped craft clear guidelines for management behavior and positive messages for their 1,000 team members back home.
two-day workshop in English with 39 participants
How do we get from aspiration to implication?
"The amount I learned I don't usually learn even over the course of several months. I would like to thank all of you and thank the MagicWorks team from the bottom of my heart for reaching these decisions."
Bharat Goenka, Managing Director, Tally Solutions
The background
What happens when a software company that has grown to a staff of 500 employees sets its sights on expanding that staff to 2,500 over two years?
What would it need to do with its existing departments to manage this five-fold growth?
What would have to change and how, and in what order?
How can existing customers be kept satisfied during and after this transition?
And how could the spirit of a tight, family-led company be maintained?
In short, how do we get from aspiration to implication?
That was the challenge.
What we did
The client had bold plans – what was needed was a stable foundation on which to build them.
Once we had clearly established the company's current strengths, the workshop was about breaking down and charting the growth into clearly defined stages.
At the same time, it was decided that two broad strategies were needed here – one for the internal workings of the company, the other on communicating the changes to existing and future partners and customers.
Once we had mapped out the stages of growth, we took each aspect of the company and determined whether it would have to change in order to remain fit for the job. We did this by imagining a stage in growth had been achieved and testing existing practices against them – identifying shortfalls and building in safeguards. The most pressing issues related to product development, human resources and marketing and sales.
For the second broad strand concerning the outward-facing aspect of the company, we considered the company's promise to customers. How would the company's changes impact its ability to meet this promise? What would it have to do to ensure this promise could continue to be kept?
All of this saw our experts encourage participants to combine rigorous analysis of the company with the imaginative creation of business scenarios against which this analysis could be tested.
Results / benefits
By the end, the client had a clear architecture for continuous growth, taking it from its current position within India into foreign markets.
three-day workshop in English, 70 company participants
Developing a vision.
"We learned to speak more with pictures than with numbers. There was much more interaction and much less lecturing in this workshop. This helped us to be both more sustainable and more efficient."
Dirk Kaliebe, Chief Financial Officer, Heidelberger Druck
The background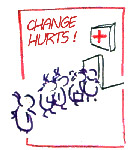 An established industry has been going through significant changes.
New technologies are spreading and customers' needs are shifting – but management has not kicked off a real company transformation. The result has been critical – the company is downsizing and losing talented and energetic employees. Tight restrictions have been set on its cash flow.
In a bid to reverse its fortunes, the company calls in external consultants to help draw up a new business plan and a vision for the next ten years.
How should this plan be implemented?
How can employees be reassured the plan will work and the company has good prospects?
How should the company and consultants work together and the transformation be managed?
In short, how do you implement a vision for the future?
That was the challenge.
What we did
The key here was to create commitment for the new overall vision. To enable this, it was necessary to establish a good working relationship between the consultants and the company and agreement about which way to proceed.
We brought together the company's board, top 50 managers and three external consultants.
Only by allowing the managers the opportunity to challenge the plan with its authors there in the same room could the larger group be convinced to give it their wholehearted support. We encouraged them to approach the vision from all angles, to give it critical feedback.
Once agreement had been reached on the vision, we were able to work on how to best communicate it to the rest of the employees so that they, too, could be persuaded to stay on board and invest their energy in the company's future.
This was channelled into a wider discussion about the leadership qualities needed to carry the plan into fruition.
Results / benefits
Every stakeholder left the workshop with a clear understanding of why the new vision and transformation process were necessary and agreed that it was fit for purpose.
Initial implementation plans were agreed, work packages developed, a communication strategy drawn up and a joint commitment statement signed by all relevant parties.
three-day workshop in German with 59 participants
How do you deal with and measure performance in a globalized company?
"It was different from normal conference rooms, more stimulating. It's a more creative environment – it was great!"
"It was very dynamic. We had a lot of spaces to interact with each other. I think we need this: drawing, being creative, joking and talking, feeling each other's passion."
Individual workshop participants, Merck KGaA
The background
Over the years, the workforce of a major corporation has become increasingly global. Business practices have developed at headquarters that have not been replicated at its worldwide outposts. In addition, several mergers have taken place, increasing the complexity of the process landscape.
A single set of performance measurement tools has been drawn up by Human Resources to establish a harmonized business process across the organization. The tools need to meet the needs of line managers around the world, taking into account country-specific requirements.
So far, the tools have not been accepted equally well across the company, hampering its performance.
Besides this, the topic of performance culture – rewarding high performance, improving poorer performance – is to be moved up the agenda by checking with line management whether they are willing to manage their employees in this way.
Why is such a culture important, and what should it look like?
How could top management be persuaded to focus more on performance culture?
In short, how do you create a performance culture that people are happy to inhabit?
That was the challenge.
What we did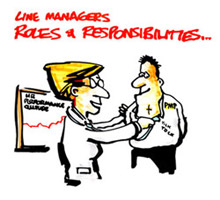 As a service area, HR wanted to do the very best for its internal customers. And yet their considerations were sometimes too internally oriented.
The only avenue was to enable an open discussion between users (line management) and the service provider (HR): to bring HR managers and line managers together and encourage each side to consider the issue from the other's perspective.
Besides enabling a dialogue about the implementation of the new tools, the workshop needed to achieve a clear understanding of what a performance culture is and why a focus on it was necessary.
The workshop was designed to be as dynamic as possible with participants split into small groups, HR managers collaborating with line managers. Each sub-group considered a specific issue and came up with its own conclusions, which were then brought together at plenary sessions.
Our strategy was to have everyone in as free-thinking and lively a mode as possible. We promoted the notion that the participants, whichever side of the divide they came from, would benefit from working together. A sense of belonging to the wider corporation was to be established.
Results / benefits
A spirit of collaboration was achieved and the feeling inspired that everyone was working towards the same end – the corporation's best performance.
The urgency generated in the shared discussion between HR and the line managers made it possible to generate recommendations in order to position the topic at the topmost management level – a single performance culture was within reach.
one-day workshop in English with 150 participants
How do you turn answers into opportunities?
"The animation video of the results of the workshop that MagicWorks has produced was fantastic. We used it to discuss the ideas that came out of the workshop with the board and the top management."
Jörg Ebbighausen, Head of New Business and Innovation, Telefónica O2
The background
An established blue-chip brand with a global reputation commissioned an external consultancy to carry out market research. It wanted to know from existing customers how it could improve their experience within the broad topics of technology, family and security. The answers were to inform the company's future business activity.
How can the company organize the answers into meaningful data? How can they be implemented into workable business opportunities? In short, how do you turn answers into opportunities?
That was the challenge.
What we did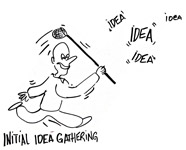 We decided the key issue here was to find where the customers' aspirations could be aligned to the company's capabilities.
We therefore decided to organize a two-day workshop: the first to include real-life customers sharing ideas with company representatives and marketing consultants; the second without the customers to refine and prioritize their input from the previous day.
On day one, we created an 'anything goes' environment to nurture free discussion of the issues raised by the market research. We led several rounds of idea generation into how customers' needs could be met, taking into consideration the company's known strengths – technology, customer network, database capability, retail outlets, brand and image.
We then created a taxonomy of these ideas, clustering them according to subject, customer need and business priority.
On day two, we helped lead more in-depth discussions with the company's representatives and consultants into which of these ideas were most appropriate for the business. We then helped rate those that proved of interest according to agreed criteria of necessary investment, potential earnings, required co-operation with other companies and projected timescales for implementation.
Results / benefits
By the end, we had distilled a broad and free-ranging set of customer desires and aspirations into something intended to form the basis of future board decisions.
two-day workshop in German with five customers, four consultants and 15 company representatives
When to run a MagicWorkshop.
Workshop situation

Results

Necessary / appropriate participants

Project kickoff

Initiating a joint start
Generating a team understanding of the "big picture"
Defining roles, responsibilities, interfaces
Spreading awareness of the complex stakeholder landscape across the entire team
Team-building at project kickoff

Must attend:
Project management
Project team

Could attend:
Top management sponsors
Individual managers from departments affected
External experts

Between analysis and blueprint / design phases

Bringing together conclusions generated in the analysis phase to reach a decision about the way forward
Clearly outlining the connection between the strategic background and specific implementation steps
Providing the framework for the blueprint phase
Specifying timeline, resources, responsibilities

Must attend:
Top management and/or steering committee
Analysis project team, incl. internal or external consultants
Blueprint / design team

Could attend:
Responsible individuals from other company units / national subsidiaries

Between blueprint / design and implementation phases

Making clear to the implementation team the thinking behind the agreed design
Coordinating the rollout plan; specifying timeline, resources, responsibilities
Developing the communications strategy for the entire organization

Must attend:
Blueprint project team, incl. internal or external consultants
Implementation team leads from various countries / company units
Team leads

For a major initiative or change: directly before rollout

Jointly agreeing on the pilot plan and success criteria
Discussing and resolving potential resistance among individuals /groups with arguments
Agreeing on quick wins
Agreeing on and launching the role of change agents
Team mobilization

Must attend:
Representatives of top management
Many relevant users

Could attend:
As many relevant stakeholders as possible

"Open" idea generation / visioning

Specialists and decision makers generate new ideas or think up the shared vision in a creative environment
Generating a team feeling for the purpose of implementing an ambitious vision

Must attend:
As many relevant stakeholders as possible
Internal decision makers
Specialists from the entire company

Could attend:
External experts